Welcome back to the Weekly News Roundup! This is where myself, Zack, goes through 5 of the gaming related stories from the week prior, all in one place! Just so we're all on the same page, I've actually dropped the "Week X" titling format for these.
This is mostly because the titles are getting waaaay too long, and it's playing hell with our URLs. But also because there may come a time in the future where I want to change the news format, and having to count the weeks could get mildly irritating for me.
This is a unique week, in that everything is specifically game related. While I'm sure I could have found some depressing, annoying, or negative news this week, I decided to make a change! Honorable mention to the Call of Duty Black Ops: Cold War announcement, I just don't have enough to say on the subject to include it in the news!
5 – Deathloop Is Delayed to 2021
Excuse me for a second, just wiping away my tears. If you don't know, Deathloop is a Groundhog Day-Meets-Hitman style game, developed by Arkane Studios. Of course, published by Bethesda.
It also happened to be one of my most anticipated games of 2020, along with Halo Infinite. So of course it gets delayed, why not?! From the developers behind Dishonored and Prey, Deathloop promised more of what they're great at. Assassinations, supernatural abilities, and an organic semi-open world.
The one issue? It's a PlayStation and PC exclusive. Timed exclusive for PS5, to be precise. This meant that for Xbox fans, they'd likely have to wait a year before playing it. 2021 didn't sound awful though, especially considering how many people tend to not buy into a launch period anyway.
But now? It's delayed to launch in 2021, which means Xbox players will have to wait to 2022. Bit brutal really, isn't it? Announcing the delay on Twitter, Arkane Lyon's statement was the following: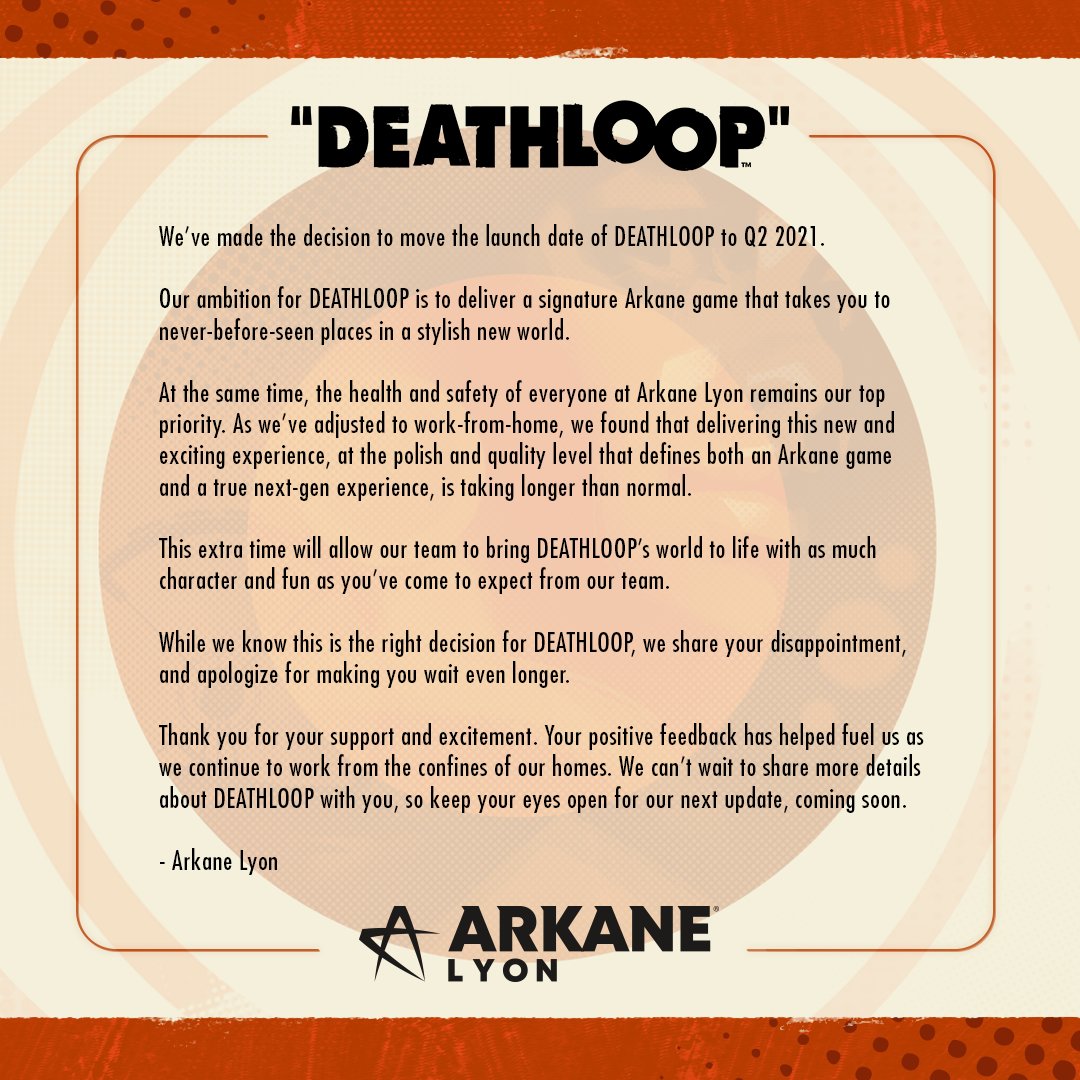 Deathloop is still one of the games I'm most excited for in the future, but this delay now has me looking at the launch slate for both consoles. It's looking a little thin on the ground, if I do say so myself. Ghostwire: Tokyo is the other title that shares a similar exclusivity deal to Deathloop and, so far at least, that hasn't been delayed.
Maybe there's still hope then. Check out my announce article for Deathloop, published after the original reveal at the PS5 event!
4 – Black Myth: Wukong Takes The Internet By Storm!
Sometimes, game development can be just as much about luck, good timing, good marketing, or all of the above. Just look at Fall Guys for example, which I actually reviewed.
Other times? All it takes is a damn good gameplay reveal, and you're golden. Enter Black Myth: Wukong. Doing the rounds on Twitter the last couple of days, this Action RPG is based around the incredibly famous Journey To The West mythology.
Being billed as China's first ever AAA title, it's developed by Game Science. Sadly I don't have permission to visit what I think is the website, so I can't really link it. Don't want to give you guys any PC viruses do I?
China is known for it's mobile gaming market especially. Black Myth: Wukong however, will be releasing onto consoles and PC, which is quite the change up.
I know people have a habit to skip over videos inside articles that they're reading, but trust me, you'll probably want to watch this one. Sadly I can't locate the original trailer, or its source, so the IGN version on YouTube will have to do.
After an atmospheric speech, the following text pops up:
"The gameplay footage is recorded directly from a pre-alpha game build work in progress – does not represent the final look of the game"
Seemingly stepping into the shoes of Wukong, the sheer amount of gameplay affecting info about him from the mythology is astounding. From the wikipedia:
"His primary weapon is his staff, the "Ruyi Jingu Bang", which he can shrink down to the size of a needle and keep in his ear, as well as expand it to gigantic proportions."

"he gained a steel-hard body and fiery golden eyes that could see very far into the distance and through any disguise."

"he can also pluck hairs from his body and blow on them to convert them into whatever he wishes (usually clones of himself to gain a numerical advantage in battle)"

"Although he is a master of the 72 methods of transformation (七十二变),[a] and can transform into anything that exists (animate and inanimate), he can use his "somersault cloud" enabling him to travel 108,000 li in a single leap (he is also able to fly without use of the cloud)."
See what I mean? Practically swimming in inspiration for game mechanics. Some of these abilities are showcased within the trailer as well, showing a player-controlled Sicada turning into Wukong at an opportune moment to surprise enemies. The staff appears to be the primary weapon, although the player wields several magical abilities throughout as well.
Interestingly, the combat style seems to be sitting somewhere between Dark Souls and God of War, with a focus on attack timings, dodging, and careful use of extra abilities. Interestingly enough, the parry mechanic seems tied to an ability, rather than perpetual use. You can see it in use in the above video at approximately 3:50 (watch the top ability symbol in the bottom left after parrying).
There's a bunch of other stuff to cover, like morphing into a giant monkey to put the beat down, fighting a very Bloodborney Wolf boss, summoning a bunch of minions (like in the ability I mentioned above) and more.
But I'd like to focus on two other things. First is that midway through the boss fight, an inch from death, he pulls out the weapon picked up from the previous boss. Doing so refills his health, and transforms him into that boss. Fire staff, cool outfit, and all. If that's true for all humanoid bosses, that could lend some massive variety to combat. This form-changing ability was on a timer, but a pretty long one considering the damage buff it provided.
The second, is the end of the trailer. Someone who looks a lot like Wukong shows up, clad in the golden armour from the mythology. Which really confused me, so now I'm not sure WHO the main player character is. Most publications seem to agree that it's based on the "Monkey King" otherwise known as Wukong. But maybe we're all getting it wrong.
Most of the abilities shown in the gameplay come straight from the Monkey King's repertoire, so lord knows really.
All I know is, the 13 minutes of gameplay above got me very excited, and the final 2 minutes gave me chills. Which a pre-alpha has NO right to do, I might add. Now I will say, Black Myth: Wukong seems a way out yet. The team are apparently still searching for a publisher, and the gameplay you've seen above was put out there in order to attract more developers.
But it's very definitely on my radar. And then some.
3 – Bloodlines 2 Loses Two Leads, With More Development Turbulence
The story of Vampire: The Masquerade – Bloodlines 2 is one fraught with development issues. Delayed not once, but twice, first from early 2020 to late 2020, and now to 2021, two lead personalities for the title have been let go.
The original delay statement released on Twitter back in early August mentioned "organisational changes" but there were no specifics. It seems we know what they were planning now.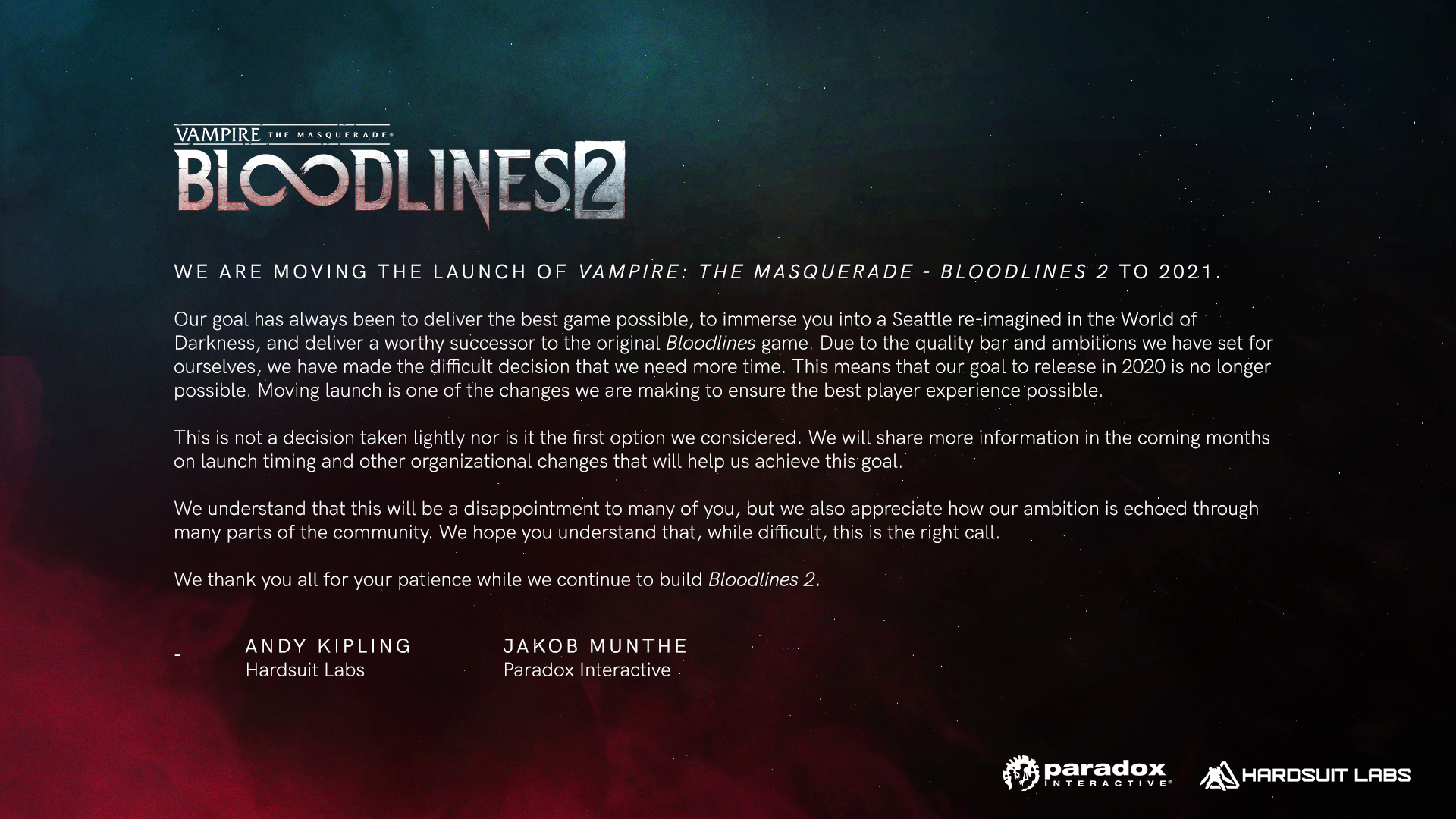 The statement on the Bloodlines 2 website said the following:
"Lead Narrative Designer Brian Mitsoda and Creative Director Ka'ai Cluney are no longer part of the team at Hardsuit Labs. This was a joint decision made by the leadership of Hardsuit Labs and Paradox Interactive."

"We appreciate, and value, the contributions of Brian and Ka'ai, which were instrumental in establishing the game's storyline and dark tone and have helped to ensure that we are making a true successor to the iconic Bloodlines. We wish them both the best in their future endeavors."
No information pointing to why was made clear, which was echoed by the Lead Narrative Designer Brian Mitsoda in a statement to rockpapershotgun:
"That this came as a shock to me is underselling it. I've worked on Bloodlines 2 for almost five years. The story and main cast was initially conceived in my living room. I helped develop the pitch for Hardsuit Labs and helped pitch the project to Paradox in Las Vegas. I've been in charge of the narrative since the beginning, working long days and sometimes weekends to deliver a successor to Vampire the Masquerade: Bloodlines, and I've never been led to believe that I hadn't succeeded. Very obviously, I have also been involved in the PR and marketing side of things, even though it was one of the most difficult parts for me."
To the best of my knowledge, there hasn't been a statement from the other fired lead employee, Ka'ai Cluney. But I'd wager the Creative Director might say a similar thing as Mitsoda.
Just another knot on Bloodline 2's rope, metaphorically speaking, one does have to wonder whether it will EVER see the light of the day. A shame, given how impressed we were by the trailer.
2 – Ghost of Tsushima Getting Surprise Free Multiplayer Mode!
Not something I saw coming this. Ghost of Tsushima is currently sitting as possibly the highest user scored game of the generation on Metacritic. While I don't think it deserves the 9.2/10 that the rest of the gaming community has granted it, Ghost of Tsushima has been a roaring success.
Reminder, this is a single player story driven open world title.
Sucker Punch have announced a 4-player co-op mode. While not the Yuna based story expansion I was hoping for some time, this is by no means a disappointment. It's actually nice to be surprised occasionally, you know?
You can head on over the PlayStation blog post to read more about the mode, but I'll summarise some for you here!
First things first, it's an entirely seperate experience from the main game. Legends (the name of the mode) won't have you playing as Jin or anyone else from the story.
Instead, you'll be playing as:
"..four warriors who have been built up as legends in stories told by the people of Tsushima."
This is isn't a competitive multiplayer mode either, so don't be expecting something like For Honor. Stricly a cooperative experience, you can pick to play as one of 4 characters:
Samurai
Hunter
Ronin
Assassin
I've arranged the images of each here:
Pretty cool right? People can play together in groups of 2-4, via friends or online matchmaking. Each Legend will apparently have unique advantages and abilities, but we don't know the details JUST yet, with more info coming in the future.
There is to be some story content thrown in though:
"With two players in Ghost of Tsushima: Legends, you'll be able to play a series of co-op Story missions that escalate in difficulty, building on the foundation of combat from the single-player campaign but with new magical twists that often require careful synchronisation with your partner."
And a wave based mode for 4 players:
"With four players, you'll be able to take on wave-based Survival missions, fighting groups of the toughest enemies Tsushima has to offer, Including new Oni enemies with supernatural abilities."
They've teased the addition of customisation as well, though again, information will be coming later down the line. Interestingly there's no concrete date for Legends to arrive, with "later this year" the only hint in the blog post.
It certainly sounds interesting though, and I'm quite excited to see where how the combat and traversal styling of the main game translate into a multiplayer offering.
Are you excited for Legends? Let us know!
1 – Nintendo Indie World Showcase – Rundown
On August 18th, the Tuesday just gone, Nintendo showcased a bunch of indie titles coming to their platform. Not all of them were exclusive either, so you'll be seeing some on other platforms as well. You know me, I love an an indie!
Sadly, I was driving at the time of the presentation, so completely missed it. Hence the completely inactive Twitter account on our behalf. My bad.
But the Indie World Showcase waits for no man, and the roughly 25 minute show was, well, quite good actually. I don't quite have the page space to cover all the games announced sadly, and I only have so much time. As such, in this weeks roundup, I'll be picking a small handful of my favorites!
First up, Hades!
The rogue-like dungeon crawler has been in early access since 2018, but is marking its full release with a Switch version! This means that, unless something changes, the only console you'll be able to play it on is Nintendo Switch. Quite the coup, as Hades has been received extremely well throughout early access, with scores around and above 8/10 from publications across the board.
The makers of the well renowned Bastion, Supergiant have delivered on their style once again with Hades, making this one to put on your shortlist. It's certainly going on mine. What's interesting, is that for people who've already played it on PC, they can transfer their saves to the Switch version. Pretty cool.
Rogue-Likes are a bit iffy with me, I either love them, like with Dead Cells on the Switch, or I'm not entirely keen. Hades looks like it's going to sit firmly in the first category. Here's the trailer:
Spritfarer
If you haven't seen Spiritfarer doing the rounds on Twitter, then do yourself a favour and watch the trailer below. Built for people who liked Stardew Valley or maybe even Moonlighter, Spiritfarer is a management game about looking after, and eventually bidding farewell to, spirits of the dead.
All the art is hand-drawn and animated, and it's frankly quite gorgeous to look at. Through improving your ferry, you can explore and befriend new travellers, before wishing them on their way.
This game isn't exclusive to Switch, and launched onto all major platforms. It also launched directly into Game Pass, which is where I'll be reviewing it from sometime in the coming weeks. Look for that!
A Short Hike
A Short Hike is a game about.. hiking. Yes, hiking. No don't worry, this isn't Death Stranding, you won't be fighting off goo monsters or messing around with weight distribution!
Developed and published by Adamgryu, A Short Hike seems designed to be relaxing. Based around the idea of exploration and taking in the world around you, this little experience is seemingly as deep as the name suggests, and all the better for it. The main goal being climbing a mountain, the joy seems to be in exploring the island you're on as the bird (literal) you're playing, Claire.
Originally released in 2019, A Short Hike reviewed tremendously, and is still sitting at a "Overwhelmingly Positive" on Steam. Available right now on Switch, I feel ashamed that I never played it. I'm intent on purchasing the Steam version and providing my review some time in the near future.
Damn, there's so many games to play huh?
Inmost
Inmost is gorgeous. It's a little shallow to start off like that, but if you're not dazzled by the pixel art presentation, then I'd wager there's something wrong with you.
Originally released for Apple Arcade in 2019, this is the first foray for the puzzle platformer outside of that eco-system. The release on Switch, which should've been today as far as I'm aware, marked a very atmospheric trailer. It doesn't give much away in terms of gameplay though, so I've dug up the original Apple Arcade trailer.
Apparently featuring 3 playable characters, and one interconnecting story, the presentation style is stark to what we usually get from indies. Dark, moody, and seemingly a little sad, Inmost has grabbed me in quite some way. Kyle as well.
Raji: An Ancient Epic
This one caught my attention before I saw the trailer. Why? It's developed by Nodding Heads Games, a studio based in India. This matters because Nintendo have been notably absent from India as a gaming market for the best part of 3 decades now. I know this, because I read a rather lovely article from thenextweb.
Given this fact, Raji: An Ancient Epic being showcased at Nintendo is, to the best of my knowledge, without precedent. The Indian game market is of course, by most accounts, thriving. The west just rarely get to see it.
It's good then, that the actual gameplay looks pretty great. It kind of reminds me of the Assassin's Creed Chronicles: India title, and more than a little of Prince of Persia. Neither of which is a bad thing by any means.
Following the female protagonist Raji, this orphaned circus performer embarks on a journey to save her younger brother.
The gameplay in the trailer linked below shows some puzzling, platforming, and weapons based combat. It all looks rather appealing as well, with simple but surprisingly detailed art style. Complete with larger than life bosses, Raji: An Ancient Epic is one that I've got on my shortlist, if you will.
6 – What We've Been Playing!
This is the segment where both me and Kyle talk briefly about what we've been playing this past week! I've taken a trip down memory lane, and started my journey playing through each of the Halo campaigns. In release order, not canonical order.
While this is, in part, to contribute toward a series of articles that I'm planning, I'm a massive Halo fan. I'll seize any opportunity to play through them again. I've just finished Halo: Combat Evolved, and I'm now on Halo 2! Other than this, I haven't been playing much, but I've just downloaded Darksiders Genesis, Spiritfarer, Afterparty, Battletoads, and Nier: Automata, all for potential future reviews!
Kyle here! This past week I've played a bunch of different games.

It started with buying Hellpoint last weekend. Hellpoint is a little Souls-Like, I believe put together by a team of 11 devs. I also finished Yooka-Laylee finally that's been on my list for a real long time!

Then the king released. Mortal Shell finally released on Tuesday! And I've been having a blast with it!

I've also delved into some Indies after the Indie Showcase mentioned above. Finishing A Short Hike first, it was a gorgeous and delightful jaunt! I would highly recommend! And as of today I started Inmost, I've not played too far but I'm in love with the style and how dark the story and world seems to be!
Well that about covers it for the news today! What have you been playing? Any news you think we missed or got wrong? Let us know! Until next time, have a fantastic weekend!
I've been playing video games in some form or another for nearly two decades. My favourite campaign of all time is Halo: Combat Evolved and my favourite multiplayer of all time is Overwatch, with a dash of Halo 3. Huge lover of everything gaming, no matter the platform or source, and I enjoy a story driven campaign like nothing else!